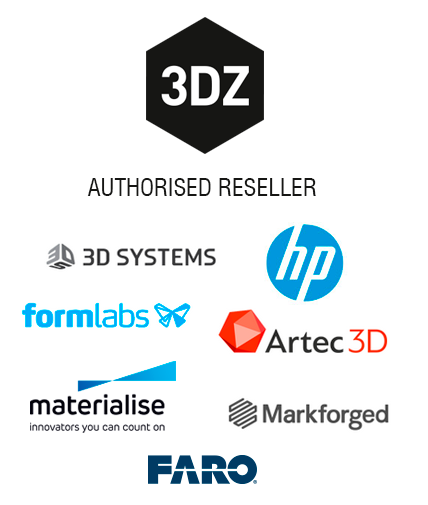 Additive Manufacturing (AM), also known as 3D printing, is a series of new technologies that create 3D objects by adding a material layer-upon-layer. Such material could be plastic, metal, wax or any material that R&D will be able to add in the future.
At the International CAE Conference and Exhibition 2017, 3DZ Group, leader in Europe for Additive Manufacturing production solutions, presented the different possible alternatives currently available in Additive Manufacturing, with real case studies, applications and best practices. In Vicenza a fully dedicated area for Additive Manufacturing hosted 3D printing specialists, that presented and explained different technologies, 3D printers and 3D scanners from different international brands (HP, 3DSystems, Markforged, Formlabs, Artec3D, FARO etc).
3DZ presented a wide range of materials (Plastic, Metal, reinforced Carbon Fibres) with the possibility to see several 3D printers and 3D scanners working.
During a dedicated session, 3DZ specialists provided a detailed description of technologies such as SLA (Stereolithography), SLS (Sintering), FDM (Filament Deposition), MJP (Multijet), CJP (ColorJet), highlighting the main criteria used to select the most appropriate solutions for any specific case.
Could it be a heat exchanger, an RF filter, a robotic arm, conformal cooling inserts, an injection mold, a water pump … in all these case, Additive Manufacturing can provide huge benefits, both in terms of production cost and time optimization.
Scroll down the page to locate the specific paper you're interested in and click on the row that corresponds with it. Click on the pdf download button to download the session content that you wish.
SPEAKER

TITLE

Robert Keogh

Markforged Director EMEA

Metal X: a new complete affordable Metal solution for everyone

Markforged present a and end-to-end manufacturing solution

Mr Keogh from Markforged will present Metal X, a brand new kind of 3D printer based on our 4th generation composite 3D printing technology. By printing metal powder bound in a plastic matrix, we've eliminated the safety risks associated with traditional metal 3D printing while enabling new features like closed-cell infill for reduced part weight and cost. Technology called ADAM (Atomic Diffusion Additive Manufacturing) will be described in details

Davide Ferrulli

Enterprise Manager at HP

HP new solution for 3D printing

A 3D printer for the production - up to 10x fasterAbstract: up to 10x faster with an open platform

Mr Ferrulli will present in details the revolution from HP. The systems' thermal control features 900 points of real time control on the bed, allowing for consistent qualities in every single layer of powder, correcting as-needed on a layer-by-layer basis. The machines feature 3 printheads, each with 10K nozzles, and feature 1200 dpi resolution. Dimensional accuracy is right now at 0.2mm and improving. To be discovered in this session!

This full presentation is not available

Robert Keogh

Markforged Director EMEA

Automated machines and sensing systems - 3D printing application

Application for strong parts with carbon fiber structure

In this case study we unveil new technology from Markforged, showing a concrete case (Univeler) where they moved from a standard ABS printer to a printer capable of printing strong part with reinforced fiber. A revolution in the production area

GIORGIO FERRARIS

SALES MANAGER 3DZ

3D Printed Conformal Cooling Inserts - Injection molding

3D PRINT IN INJECTION MOLDING: EFFICIENCY IN THE PROCESS AND FINAL RESULT.

Bastech reduces injection molding cycle times by 22%, eliminates 30-40 hours post-processing time of the molds, and 18% reduction in cost through conformally-cooled, 3d printed, metal injection molds

Gianfranco Caufin

SALES MANAGER 3DZ

3D Fluid Tightness applications with the HP Multi Jet Fusion solution

Understand the unique HP Multi Jet Fusion capabilities for fluid tightness (water, air, brake fluid…)

Have you planned to print, design or manufacture deposits or ducts in 3D? If not, you should. Multi Jet Fusion is a powder based technology that uses an HP proprietary fusing system that allows to print dense parts that are tight to work with fluids, even in final parts

Alessandro Canova

3D Laser scanner, FARO

Technical office new way of working - motorbike concrete example

FROM REVERSE ENGINEERING TILL 3D PRINTING. AN EASY EXAMPLE WITH MOTORBIKE PARTS TO EXPLAIN DIFFERENT PROCESS IN DETAILS

In the session Mr Canova from FARO will introduce the most comprehensive reverse engineering software, combines history-based CAD with 3D scan data processing so you can create feature-based, editable solid models compatible with your existing CAD software.

Matteo Abbiati

Channel Sales formlabs

Mechanical assemblies with Formal

Optimizing Design for Functional 3D Printed Assemblies

Optimizing Design for Functional 3D Printed AssembliesTolerance and fit are essential concepts that engineers use to optimize the functionality of mechanical assemblies and the cost of production. Formlabs extensively studies the accuracy of our materials and works to maximize repeatability between prints and across printers. The data and best practices in this white paper can help Form 2 users to design functional assemblies that work as intended, with the least amount of post-processing or trial-and-error.

This full presentation is not available

Riccardo Nicastro

Business Development Manager 3D Systems

Alessandro Buson

Sales Manager 3D Systems

Additive Manufacturing drivers: Automotive and Aerospace

3D printing is shifting from prototyping to productionfor Automotive and Aerospace

We are at an inflection point. 3D printing is shifting from prototyping to production. Discovering how tooling costs reduction and lightweight needs are driving towards Additive Manufacturing. Two success cases in different industries (Automotive and Aerospace).

ALESSANDRO FACCA

SALES MANAGER 3DZ

3D pritning Secures a Firm Grip in Robotic Automation

HOW 3D PRINT CAN SUPPORT IN RE-TOOL A ROBOTIC ARM IN A MANUFACTURING CELL IN UNDER 24 HOURS

With the thousands of different valves, fittings, and gauges that the company manufactures, each product line setup requires custom equipment, including tooling and grips to hold specific parts efficiently - Dixon Valve

Marco Tormena

Channel Manager 3D Systems

Heat Echanger with 3D metal printing: E2E Manufacturing Solutions from 3D Systems

3D METAL PRINTING IN A CONCRETE CASE O A HEAT EXCHANGER - PERFECT CASE OF PRINT LOW-VOLUME, HIGH-COMPLEXITY METAL COMPONENTS

Increase the efficiency of a 1kW heat exchanger by 20 percent while reducing weight and size. The manufacturing cycle for the heat exchanger was reduced from months to weeks.

Cristian Parmeggiani

SALES MANAGER 3DZ

Alberto Baraldi

Sales Manager 3DZ

Cooled Gas Burner with 3D printing

3D metal printing in a gas burner to reduce complex assembly (20+ parts) into one single part

In this case study 3D metal printing will be described with a gas burner real case. Key point: Reduce complex assembly (20+ parts) into one single part. Part lifetime tripled while also achieving superior cooling through significant material reduction (50%) and conformal cooling channels less than 1mm away from burning gas

This full presentation is not available

STEFANO VERSARI

B810 srl

Additive Manufacturing and R&D: how 3D Printing influences the time-to-market process in B810 Srl

3D Printing has become a key factor to support R&D Department and to speed up the development process

Additive Manufacturing has become one of the most important allies of the R&D Departments, and for B810 Group the effects of 3D Printing are particularly real and tangible. The Market always requires cost reduction, lead time compression and attitude for the Design: for B810 Group the solution is AM and 3D Printing. During the session we will analyse the R&D process using the AM technologies, and the comparison with the process of the past years; we also provide the compared cost analysis between the two approaches. Finally we explain the reasons that bring B810 Group to invest in the 3D Printing technologies.