Poster Award - THE FIVE COMPETITION WINNERS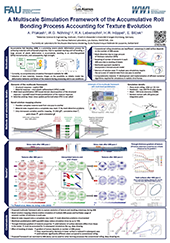 25. A multiscale simulation framework of the accumulative roll bonding process accounting for texture evolution
Arun Prakash, H.W: Höppel, E. Bitzek
Friedrich-Alexander-Universität Erlangen-Nürnberg
Wolfram Nöhring
Laboratory of Multiscale Mechanics Modeling, École Polytechnique Fédérale de Lausanne
R.A. Lebensohn
Los Alamos National Lab, Los Alamos, NM, USA
Accumulative Roll Bonding (ARB) has attracted considerable interest as a process for producing metal sheets with ultrafine-grained microstructure. The high mechanical strength exhibited by these sheets shows potential for applications in the automotive industry. To date, most research work has been focussed on experimental investigations of the properties of ARB sheets, and their relation to process parameters. By contrast, very few numerical investigations can be found in the literature, especially those that focus on the description of the microstructure and texture that is fundamental to the enhanced properties of such sheets.
In this work, we propose a computational framework that allows us to simulate multiple-pass ARB and the texture evolution during the process. Our framework embeds the well-known visco-plastic self-consistent (VPSC) model in a finite element (FE) realization of the ARB process. To facilitate multiple pass rolling, we propose a novel solution mapping scheme that transfers the material state from the deformed finite element mesh to a new one. Additionally, we implement a two-level parallelization scheme – with decomposition of the FE domain using message passing interface (MPI) and thread based parallelization of the material response using openMP– to ensure reduced simulation times. The predictive capabilities of the proposed framework are demonstrated by simulating the accumulative roll bonding of aluminum alloy AA5754 sheets. The simulations validate the working of the solution mapping scheme, and clearly show the development of a through thickness gradient of texture and anisotropy in the roll-bonded sheet after two passes. Computation times with a full 3D setup and the two-level parallelization are approximately 30% of those with purely domain-decomposition based parallelization. The results presented clearly show the advantage of the proposed simulation framework.
Sheet Metal Production - Aerospace and Automotive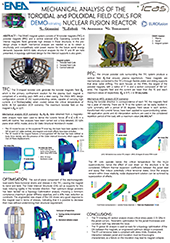 17. Mechanical analysis of the toroidal and poloidal field coils for demonstrating nuclear fusion reactor
Lorenzo Giannini, Alessandro Anemona
ICAS scrl, University of Rome "La Sapienza"
Lorenzo Zoboli, Giordano Tomassetti
ENEA, University of Rome "Tor Vergata"
The DEMO magnet system consists of 18 toroidal magnets (TFC), 6 poloidal magnets (PFC) and a central solenoid (CS). Operating currents and intense magnetic fields generate high stresses in these structures. In the pre-design phase in-depth mechanical analyses are needed so as to obtain a structurally and competitively solid power reactor for the future world energy demands. Separate ANSYS static structural analyses for the TF and PF are here presented. A topology optimised design for the intercoil supports is also given.
Energy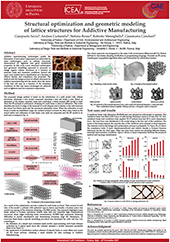 01. Structural optimization and geometric modeling of lattice structures for Addictive Manufacturing
Gianpaolo Savio,
Andrea Curtarello, Stefano Rosso, Roberto Meneghello, Gianmaria Concheri
University of Padova
Additive manufacturing technologies enable the fabrication of innovative components not achievable by other technologies, such as cellular structures, characterized by lightness and good mechanical properties. In this work a new structural optimization and geometric modelling approach is proposed to design regular cellular structures as a function of material, loads and constraint conditions. Several cell types were studied and a classification as a function of boundary conditions, relative density and compliance was proposed.
Additive manufacturing technology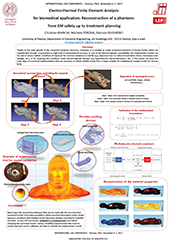 08. Electro-thermal Finite Element Analysis for biomedical application. Reconstruction of a phantom: from EM safety up to treatment planning
Christian Bianchi, Michele Forzan, Fabrizio Dughiero

University of Padova
Thanks to the rapid growth of the computer hardware resources, nowadays it is possible to create numerical phantoms of human bodies which are sophisticated enough to guarantee an high level of computational accuracy. In case of bio-electromagnetic compatibility, the implemented models can be used to assess realistic conditions of exposure for common situations in real life (e.g. expsosure due to a telecommunication device, microwave oven leakage, etc.), or for analyzing the conditions under electromagnetic therapy (e.g. hyperthermia, electrostimulation, etc). In this poster, we show the main steps of numerical implementation that are necessary to obtain reliable results from a large-complex 3D multiphysical coupled model of a human body phantom.
Biomedical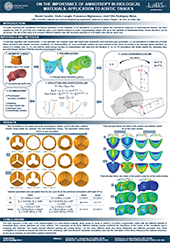 15. On the importance of anisotropy in biological materials: application to aortic tissues
Nicole Casalini, Giulia Luraghi, Francesco Migliavacca, José Félix Rodriguez Matas
Politecnico di Milano
Modelling of biological tissues in numerical simulations requires an accurate choice of the constitutive laws, whose influence could be determinant to obtain reliable results. The aim of this work is the implementation of a user-defined material, which allows to model in ANSYS LS-DYNA a hyperplastic matrix with two different families of embedded fibers, whose directions can be locally imposed. Finite element simulations on a biological heart valve and a reconstructed aortic root with physiological load were carried out with linear elastic, isotropic and anisotropic materials.

Biomechanics
Poster Award - THE Finalists